How liberal anger at Obama budget helps the president, Democrats
The president's budget, with its cost-saving measures in Social Security and Medicare, has infuriated the left. That positions Obama more to the center and could help him achieve other goals – and save some Democratic seats in 2014.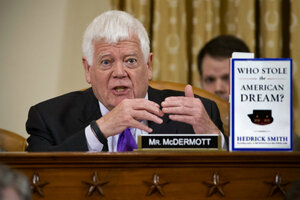 J. Scott Applewhite/AP
No doubt about it, liberal activists are angry with President Obama over his budget proposal, which includes cost-saving changes to Social Security and Medicare – two of the biggest pillars of the nation's social safety net.
AFL-CIO President Richard Trumka, a usually reliable ally of the president, assailed the proposal Wednesday as "wrong and indefensible." The day before, progressives delivered 2 million petition signatures to the White House denouncing the plan. Sen. Bernie Sanders (I) of Vermont, a self-described Democratic Socialist, accompanied the group, megaphone in hand.
"We are not going to balance the budget on the backs of the elderly, disabled vets, the sick, the women, or the children," Senator Sanders said.
Angry press releases are still going out. Funds are being raised.
And all of this is good for the president.
As with all presidential budgets, the chances of Mr. Obama's budget actually being enacted are slim to none. Yes, Republicans have welcomed his proposal to introduce "chained CPI" – an alternative method of calculating inflation in cost-of-living increases – in Social Security. But they are dead set against the new taxes in his budget. And Obama won't do one without the other. He says his budget is already a compromise, not a starting point for negotiation.
So as a governing document, it's dead on arrival. But it's still useful: By taking a step toward the center on this one element, Obama demonstrates a willingness to go against his political base – and that base has helped him publicize that point by vocally and publicly objecting to his proposal. By extension, his move on chained CPI could be helpful in dealing with other elements of his agenda.
---