Boston Marathon bombing moves from solidarity to partisan politics
Partisanship was absent in the days following the Boston Marathon bombing. Now, political issues are entering into the discussion, including gun control, immigration, and national security.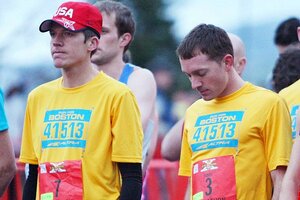 Melissa Majchrzak/AP
Democrats and Republicans declared a truce of sorts Saturday – at least in their respective weekend radio addresses, both of which focused on the Boston Marathon bombing. Usually those venues are used to attempt to score political points on things like the economy, immigration, and gun control.
"Through days that would test even the sturdiest of souls, Boston's spirit remains undaunted – America's spirit remains undimmed," President Obama said in his regular weekly address. "Our faith in each other, our love for this country, our common creed that cuts across whatever superficial differences we may have – that's what makes us strong."
"I have no doubt the city of Boston and its surrounding communities will continue to respond in the same proud and heroic way that they have thus far, and their fellow Americans will be right there with them every step of the way," Obama said just hours after the second alleged attacker had been captured, ending a day of violent confrontations in which the first alleged attacker was killed in a shootout with police.
Speaking on behalf of the GOP, US Sen. Tim Scott of South Carolina, echoed the same theme.
"We will stand strong, we will stand united, and we will stand together for Boston," Sen. Scott said. "The greatness of America is not seen during times of prosperity, but is crystallized by how we respond to challenges."
---