'Obamagate' danger for the GOP: political overreach
Republicans are jumping all over what they see as major scandals in the Obama administration, including Benghazi, the IRS, and checking journalists' phone records. But some in the GOP are warning against the perception of overreach for partisan purposes.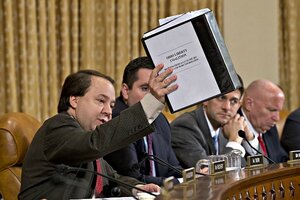 J. Scott Applewhite/AP
Benghazi terrorist attack ... IRS and the tea party ... snooping on Associated Press reporters ... losing track of terrorists in the witness protection program.
What the heck, let's just call the whole thing "Obamagate," a cluster of what Washington calls "scandals" threatening to undermine whatever President Obama hoped to achieve in his second term.
"Impeachment" is being flung around by some opponents as congressional committee chairmen in the Republican-controlled House of Representatives line up to fire rhetorically at administration officials.
But there's a danger for the GOP too, some Republicans warn – particularly since Congress already labors under a 79 percent disapproval rate, according to the latest Gallup survey.
Former House Speaker Newt Gingrich concedes that Republicans "overreached" in 1998 when they pushed for then-President Bill Clinton's impeachment in the Monica Lewinsky affair.
Today, Gingrich told NPR Friday, House Republicans leading the investigative parade "need to be calm and factual," proceeding with caution as they sniff out any administration wrongdoing.
"For example," he said, "a [House] subcommittee ... should invite every single tea party, conservative, patriot group that was messed over by the IRS – every single one of them – to come in and testify, so that they build this deadening record of how many different people were having their rights abused by this administration."
---