How immigration reform might also spur young Americans to study math, science
Measures in immigration reform legislation would channel fees from high-skilled visas into investments for American students to delve into science, technology, engineering, and math.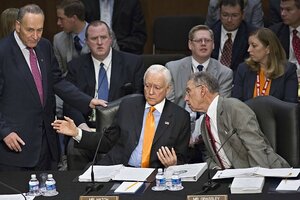 J. Scott Applewhite/AP
Tucked into immigration reform legislation in both chambers of Congress are little-noticed measures that could pump hundreds of millions of dollars into cultivating a new generation of American students interested in science, technology, engineering, and math (or STEM). Such a move could help shore up what much of corporate America and many lawmakers see as a glaring deficiency in the nation's long-term economic competitiveness.
The bills offer at least $200 million per year (but perhaps as much as $700 million, advocates say) by channeling fees from high-skilled visas into investments in STEM education and job training.
Specifically, legislators would increase the fee that employers pay to sponsor high-skilled temporary workers (visas known as H-1Bs) and direct $1,000 of that bump toward a special "STEM fund." The fund would also be supported by an additional $1,000 cost to employers looking to sponsor H-1B workers for permanent residence in the United States.
While some argue that it may be counterproductive to boost H-1B visas, few disagree with the premise of more STEM education. Lawmakers and advocates say this funding plan forces companies that decry a shortage of US-born STEM workers to put their money where their mouth is.
It allows the US to "look at the short-term job openings and the short-term needs, but use that as a mechanism to generate funding to address the long-term issue," says Peter Zamora, director of federal relations for the Council of Chief State School Officers, a group of top state education policymakers. "That's what's going to make it sustainable."
The Senate is scheduled to take up comprehensive immigration reform, including this provision, next week, when lawmakers will begin the process of amending the bill on the Senate floor. Senate majority leader Harry Reid (D) of Nevada has vowed to pass the bill before adjourning for the Fourth of July holiday.
The idea for the fund has been heavily influenced by Sen. Orrin Hatch (R) of Utah, whose bipartisan bill aimed at reforming high-skilled immigration was added to the Senate's comprehensive measure during the Judiciary Committee's amendment process.
---