PRISM: What's behind this NSA surveillance tool lurking about your Facebook page?
The PRISM program has been sucking up what most people would think of as personal information on Google, Facebook, Skype, and other Internet providers. What's up with the NSA's secret surveillance effort?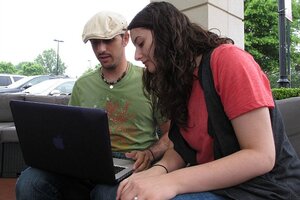 Allen Breed/AP
PRISM. Its code name sounds like something out of a James Bond novel. Cold, hard-edged, geometric and geological, spelled all-caps but not an acronym – at least not one intelligence officials reveal publicly.
It's the super-secret program to surreptitiously sweep the Internet for audio, video, photographs, emails and web searches from nine major US Internet providers – Microsoft, Yahoo, Google, Facebook, PalTalk, AOL, Skype, YouTube, and Apple – in hopes of detecting suspicious behavior that begins overseas and may be tied to terrorism.
"Super-secret," that is, until this past week, when the Washington Post and Britain's Guardian newspaper pulled back the curtain on this massive surveillance effort spawned in the wake of the 911 terrorist attacks.
So what do we know now about PRISM? Here's how the Washington Post reports its genesis:
"PRISM was launched from the ashes of President George W. Bush's secret program of warrantless domestic surveillance in 2007, after news media disclosures, lawsuits and the Foreign Intelligence Surveillance Court forced the president to look for new authority," the Post reported Thursday. "Congress obliged with the Protect America Act in 2007 and the FISA Amendments Act of 2008, which immunized private companies that cooperated voluntarily with US intelligence collection."
Meanwhile, the story continues to unfold.
---