Will Obamacare get its act together in time?
HealthCare.gov, which under Obamacare is the federally run exchange for 36 states, is still overwhelmed four days after going live. It will undergo 'scheduled maintenance' this weekend, officials announced late Friday.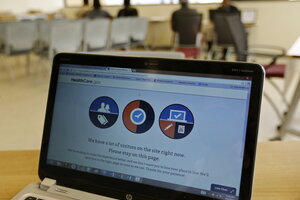 Joe Skipper/Reuters
[Updated 8 p.m. EDT] HealthCare.gov, the federal government's online marketplace that serves as the portal to its new health-insurance program, will undergo "scheduled maintenance" this weekend, following a problem-filled four days since it opened Oct. 1, the Department of Health and Human Services (HHS) announced late Friday.
Stories of frustration had been piling up about the site: People who can't register. People who preregistered before opening day, but can't log in. People who get five or six screens in, then the site crashes.
The site serves the residents of the 36 states that opted not to set up their own online health insurance marketplaces, or "exchanges," under the Affordable Care Act (ACA).
"The enhancements we are making will enable more simultaneous users to successfully create an account and move through the application and plan shopping process," HHS said in a press release.
During the scheduled maintenance, the call center (800-318-2596) will still be available to assist consumers, the release said.
"We expect that Monday, less than a week after the marketplace opening, there will be significant improvements in the online consumer experience," HHS said.
HHS touted statistics that showed great interest in the new ACA health-insurance program: HealthCare.gov has received 8.6 million unique visitors. The call center has received 406,000 calls. And there have been 225,000 requests for online chats.
---