Does Sen. Susan Collins have the best idea for ending the Washington mess?
House and Senate met Saturday, looking for ways to solve the budget-and-debt debacle. House members went home, but Senate leaders from both parties kept talking.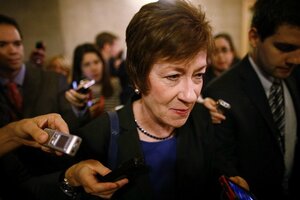 Charles Dharapak/AP
As the work week ended for most Americans and the three-day weekend began, it looked like the main actors in Washington's budget-and-debt debacle were getting somewhere – at least talking to rather than at each other.
But by the end of the day Saturday, the principals had slumped back into their earlier positions, accusing each other of failure to seriously negotiate an end to the government shutdown while avoiding what most economists and business leaders say would be disastrous default on the US debt just five days from now.
Speaker John Boehner sent House members home until next week.
In the Senate, Democrats couldn't generate the 60 votes necessary to bring Majority Leader Harry Reid's proposal to the floor. That would have extended the debt ceiling through 2014. It failed on a party line vote.
For a while, it looked like a bipartisan proposal by Sen. Susan Collins, the moderate Republican from Maine, might be going somewhere. That included a six-month stopgap funding bill through March and a debt ceiling increase through January.
Regarding the Affordable Care Act ("Obamacare"), the Collins proposal also would delay for two years a tax on medical devices, and it included stronger income verification for those deemed eligible for insurance subsidies under the new law.
---