Three reasons why Sarah Palin joined Fox News
(Read article summary)
Sarah Palin is already a multimillionaire and a best-selling author. Why put up with the hassle of being a contributor for Fox News? Well, her 'polibrity,' for one.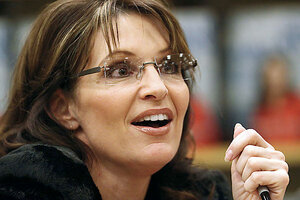 Jim Lee/Sioux City Journal/AP/File
Sarah Palin – welcome! You're one of us now, a member of the media fraternity. Maybe you never had to cover a school board meeting, or local opera, but then again, neither did George Stephanopoulos. That's one of the beauties of journalism. One appearance, and you're forever a pro.
But, Ms. Palin, if we may ask, why bother? You're already a multimillionaire. "Going Rogue," your best-selling memoir, has seen to that. I'm sure Fox News waved a big check in your direction, but there are unglamorous aspects to working in the media, too. Deadlines, for instance. Inane repartee. And those lights – spend a couple of hours in a TV studio, and you'll feel like you're working inside the world's biggest tanning bed.
I guess there are some obvious reasons you agreed your new deal with Fox News, though, that transcend your affinity for the network.
Here are a few:

1. You're a 'polibrity.' Recent years have seen the rise of a new kind of famous person: the out-of-office politician whose prominence is sustained by the ongoing drama of whether they'll run for president. They're hybrid politician/celebrities, or "polibrities."
---