Cheney and Biden duke it out: part of the job of the No. 2
(Read article summary)
Pugnacity was on display Sunday as former VP Cheney and current VP Biden argued over the Obama administration's handling of national security matters. It's what vice presidents do.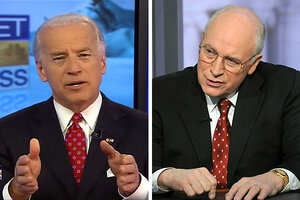 Left: William Plowman/NBC/AP, Right: Fred Watkins/ABC/AP
Dick Cheney versus Joe Biden: Why did they go after each other Sunday like pro wrestlers shouting over the ref from different corners of the ring?
That's an easy one. That's the role of vice presidents – both current and former. It's expected. Pugnacity can be an asset for an administration's No. 2.
To start from the beginning, Mr. Cheney, the VP under George W. Bush, and Mr. Biden, current occupant of the VP mansion (it's on the Massachusetts Avenue grounds of the Naval Observatory), both appeared on Sunday morning news shows.
National security was the main area of contention. The Iraq war was "the right thing to do," said Cheney during an appearance on ABC's "This Week." "We got rid of one of the worst dictators of the 20th century."
Biden, on NBC's "Meet the Press," said he did not believe the war was worth it. "We took our eye off the ball, putting us in a much different and more dangerous place in Afghanistan."
---