Social media domination: Republicans rule Twitter
(Read article summary)
Among congressmen, Republicans far outnumber Democrats on social media site Twitter, according to a recent study.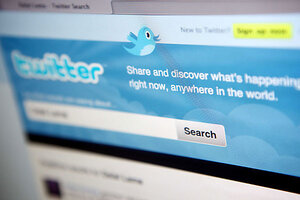 Lou Wee/SIPA/Newscom
Yes, Democrats own the White House and control Congress. But Republicans reign over social media by ruling Washington's Twitterverse!
OK, "rule" may be an exaggeration, in that Twitter – the Web-based social network site that allows users to send and read short messages – is a vast network that can't be controlled, any more than can Newt Gingrich. Read his comments at a recent Monitor breakfast here.
But more GOP than Democratic lawmakers use Twitter to communicate with constituents and the news media, according to a new Congressional Research Service study [PDF]. Substantially more.
Sixty percent of the senators and representatives registered with Twitter are Republican, CRS found. That figure seems even more impressive when you remember that there are fewer of them to begin with.
It's the House that's the Twitter GOP hotbed. Fully half of the Capitol Hill Twitterverse is composed of House Republicans. Obviously they've got some organized Twitter strategy going on in the GOP caucus.
Is it only Decoder that finds this counterintuitive? It's Democrats who are the party of young people (who text a lot), and Change, with a capital "C," and MoveOn, and Web-based fundraising, and so forth.
Meanwhile, it's conservatives who "stand athwart history, yelling 'Stop!'," to paraphrase William F. Buckley.
Guess we'll have to change that to "tweeting 'Stop!'"
---