Now presenting: Michelle Obama's closet
(Read article summary)
Chronicler of first lady fashions, the Smithsonian displays Michelle Obama's inaugural threads. She's a bit embarrassed by all the attention.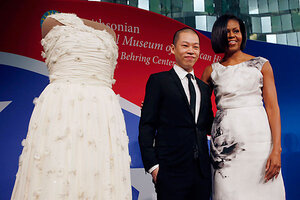 Jason Reed/Reuters
Most of us figure the Smithsonian will never exhibit our clothes. It's not as if it's putting on a show called "Sweat Pants of the Middle Class: A Retrospective."
But things are different if you are Michelle Obama. There she was March 9, watching as the Museum of American History unveiled a display featuring one of her dresses.
It was her inaugural gown, that white one-shouldered swoosh by designer Jason Wu. You'd figure that by now she's used to being a celebrity. But she said she was a little embarrassed, and, truth be told, she looked it.
"I'm not used to people wanting to put things I've worn on display," she said. "All of this is a little odd, so forgive me."
IN PICTURES: Michelle Obama's fashion
Many first ladies have found the role of national fashion icon to be both exhilarating and a pain in the bodice. One moment barely anyone (definitely not Joan Rivers) is looking. Then – whammo! – suddenly you're in the White House, and your outfits are a subject of fascination.
---