Every day is Flag Day for Obama. He has his own flag, after all.
(Read article summary)
Flag Day marks the day that America's forefathers adopted the stars and stripes. But perhaps less well known is the fact that presidents have had their own flag since the 1800s.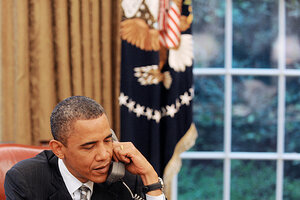 Newscom
Here's a fun Flag Day fact: Barack Obama has his own banner.
Well, it's not his personally. It's the president's, as in, whoever happens to be president of the US at the time.
Yes, there is an official presidential flag of the US. And it has its own history, unrelated to that of the Stars and Stripes.
IN PICTURES: Celebrating the American flag
Hold it just a second, you say. It isn't enough that presidents get a free house, and a bulletproof limo, and helicopter rides to Camp David on the weekend? They get a flag, too? Since when did the US become the Duchy of Grand Fenwick?
Hold on. The point is, for purposes of protocol, the presidential flag indicates the presence of the chief executive. It's a vestige of military practice, in which the flags of various commanders would indicate where they and their divisions were.
Army-Navy game
The president is the commander-in-chief of the armed forces, after all. And that's how the US presidential flag got started. The Navy wanted a flag to indicate the presence of the president aboard a ship.
Throughout the 1800s, the Navy switched back and forth among various designs, some based on the national flag, some not. Finally, in 1882, the Navy Department issued a general order that fixed the banner: a blue background with the coat of arms of the United States in the center.
Chester Arthur – who was president at the time – personally gave his OK. He flew the flag from the presidential yacht, the USS Dolphin.
---