Thanksgiving trivia: Which president moved up Thanksgiving Day?
(Read article summary)
When Thanksgiving was to fall on the last day of November, he agreed to move it up a week. Thanksgiving trivia hint: Merchants were behind it.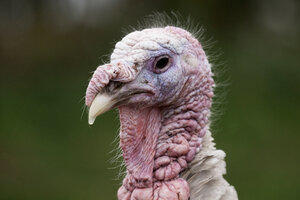 Newscom/File
Here's a plot for a sure-fire blockbuster: Special interests want Americans to spend more money, so they persuade a pliant White House to declare that Thanksgiving will be held earlier, lengthening the holiday shopping season! Diabolical, isn't it?
But ordinary people rebel at Washington's meddling with tradition. Many hold Thanksgiving on the last Thursday in November anyway, crushing the Plot to Steal Turkey Day. The president sees the error of his ways, Congress passes a law ensuring no one can do that again, and an angel gets his wings.
Fantasy? Nope. It all happened. Except the part about the wings.
Perhaps in real life the situation wasn't quite that dramatic. And the president in question, Franklin Roosevelt, had an excuse: It was the Depression, and he was doing all he could to get the US economy running again.
---