How FDR put his stamp on 'day of infamy' speech after Pearl Harbor
(Read article summary)
In Franklin Roosevelt's now-famous speech to a joint session of Congress, delivered the day after the Japanese sneak attack on Pearl Harbor, 'infamy' was the president's last-minute change.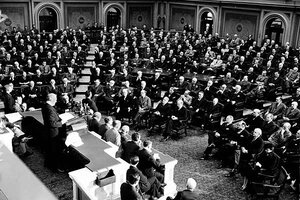 AP/File
December 7, 1941, was the day of infamy – the date when the Japanese hit Pearl Harbor with a surprise attack. But December 8, 1941, was the day of "infamy" – the date when President Franklin Delano Roosevelt in a joint session of Congress spoke the famous line that helped rally the nation and defined the event for generations of Americans to come.
It was the very first line of his speech to the hushed assembled lawmakers. Gripping the podium in front of him, at about 12:30 PM on the day after the attack, FDR said this: "Mr. Vice President, Mr. Speaker, members of the Senate, and of the House of Representatives, yesterday, December 7, 1941, a date which will live in infamy, the United States of America was suddenly and deliberately attacked by naval and air forces of the Empire of Japan."
The effect was electrifying. The whole speech was short, only six minutes or so, and intended to convey an emotional jolt to the American people. Secretary of State Cordell Hull had argued for a longer address laying out the recent history of US-Japanese diplomatic negotiations, but the president rejected him. His aim was to unify the country, not explain the US position to the world.
---