John Boehner's tough talk on debt limit: a departure from history
(Read article summary)
Speaker John Boehner would exact a stiff price for once again raising the debt ceiling: trillions in spending cuts. Guess how many times Congress has raised debt limit since 1962?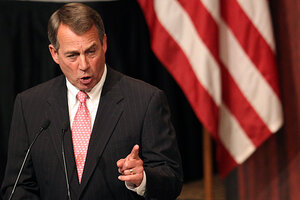 AP Photo/Kathy Willens
House Speaker John Boehner is talking tough about the debt limit. The Ohio Republican says he wants trillions of dollars of cuts in US spending in exchange for GOP support of legislation that would allow the federal government to keep borrowing beyond its current $14.3 trillion debt cap.
Yes, yes – but where did the US debt limit come from? It's kind of a weird thing, if you think about it. From the federal government's point of view, it's as if it's living in the home of a cranky uncle named "Congress" who limits the amount of money the Treasury can borrow on credit cards, while simultaneously ordering it to buy lots of new stuff, like bridges, fighter jets and Medicare prescription drug programs.
This irascible legislative paterfamilias rarely approves increases in household income (tax hikes) or reductions in other expenses (budget cuts) that might allow the family accounts to make more sense.
Well, like many things in life, the debt limit began as an effort to produce an effect different from the one it ended up creating. It started as a way to give Treasury officials more financial flexibility – not less.
---