Which private citizens, besides Martin Luther King, have Mall memorials?
(Read article summary)
Contrary to conventional wisdom, Martin Luther King Jr. isn't the only non-president to have a memorial on the National Mall. Here are three other individuals who got prime space.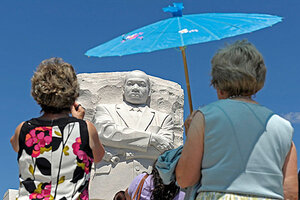 Susan Walsh/AP
The Martin Luther King Jr. Memorial is already drawing big crowds in Washington, D.C. Its design, which features a 30-foot statue of the civil rights leader striding out of a block of stone, is producing positive reviews from many early visitors.
That's great. But some of the media reports on the new King complex say it is the only memorial on the National Mall that doesn't honor a president or a war.
That's not true, strictly speaking. It may be the biggest and most impressive memorial to a nonpolitician on the Mall. But it isn't the only one.
There's the John Ericsson Memorial, for one. Of course, not that many people today remember the Swedish-born Ericsson – he was famous during and after the Civil War. An engineer and inventor, he was the principal designer of the famous Union ironclad warship, the USS Monitor.
The National Park Service lists Ericsson's modest stone memorial as part of the National Mall and Memorial Parks. It stands where Independence Avenue meets Ohio Drive.
"In terms of placement, the memorial occupies a highly symbolic and important position guarding the Potomac River entrance into the Nation's Capital; the Lincoln Memorial, honoring Ericsson's great benefactor, stands just to the north," notes the National Park Service website.
Then there's the memorial honoring a somewhat better known naval hero – John Paul Jones. The Jones Memorial was erected in 1912 near the Tidal Basin.
---