How many presidents felt earthquakes in the White House?
(Read article summary)
President Obama didn't feel this week's Virginia earthquake much, because he was on Martha's Vineyard. But two other presidents wrote about being shaken by tremors in the White House.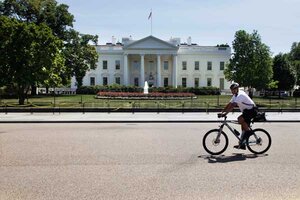 Yuri Gripas/REUTERS
Has any US president experienced an earthquake? Of the seismic variety, we mean, as opposed to political upheaval?
We ask because President Obama has (so far) missed his chance. The magnitude-5.8 temblor that rolled from Virginia through the nation's capital on Aug. 23 was one of the strongest ever to hit the region, but Mr. Obama didn't feel it. He was on Martha's Vineyard playing golf.
He has also said he didn't detect the magnitude-3.4 earthquake that hit Washington in the early hours of July 16, 2010. He was asleep in the White House at the time.
Obama's not alone, of course. Most Washingtonians have never been through an earthquake, given that the mid-Atlantic isn't a tectonically unstable part of the world. But as near as we can determine, at least two presidents got all shook up to the point that they wrote down what happened.
The first instance involves a series of massive quakes – the largest to ever strike the eastern US and possibly the largest to affect North America since its settlement by Europeans. These were tremors in 1811 and 1812 centered on New Madrid, in what is now Missouri.
---