Michelle Obama booed. Has that happened to first ladies before?
(Read article summary)
Michelle Obama and Jill Biden were lately booed at a NASCAR event. Mrs. Obama is not the first first lady to get a rude reception. The most serious episode dates from the civil rights era.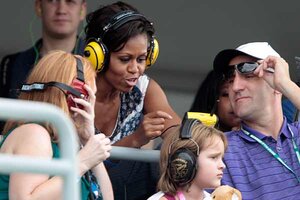 Alan Diaz/AP
Michelle Obama and Jill Biden were booed at a NASCAR race in Florida on Sunday. As pundits argue over whether the crowd was disrespectful to the first and second ladies, or simply expressing its displeasure with Obama administration policies, we have this question: Is this the first time such a thing has happened?
No it isn't, as you might have guessed. First ladies and ex-first ladies are political figures in their own right, and sometimes they get an unpleasant reception.
First lady Hillary Rodham Clinton got booed in Seattle in 1994 while making a speech promoting her (doomed) health-care initiative, for instance. When she ran for president herself, the then-Senator Clinton occasionally was heckled from the left – on June 20, 2007, attendees at the liberal Take Back America conference booed when she said the US military had succeeded in Iraq, while the Iraqi government had failed to make tough decisions about its future.
---