Alien attack! Americans pick Obama over Romney to battle invasion from space
(Read article summary)
A strong majority of Americans say President Obama would do a better job than Mitt Romney handling an alien invasion, according to a new survey.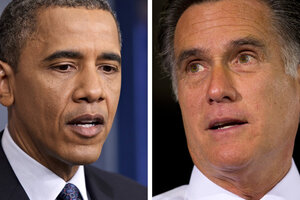 Scott Applewhite, left, and Evan Vucci/AP/File
President Obama may be trailing Mitt Romney in the polls on who'd do a better job fixing the economy.
But if the Earth ever is attacked by hostile beings from another planet, a strong majority of voters believe Mr. Obama would be superior in dealing with the situation.
In what may be our favorite polling question of the campaign so far, a survey by the National Geographic Channel, first reported by USA Today, finds that 65 percent of Americans say Obama would be better suited than Mr. Romney to handle an alien invasion.
And lest you are tempted to dismiss this poll as pure silliness, the study also found that 36 percent of Americans think UFOs exist, while another 48 percent aren't sure. Which means that at least some of the respondents judging the presidential candidates' alien-fighting abilities may see it as a plausible scenario. (According to the poll, 79 percent also say the federal government has been hiding information about UFOs from the public – which may actually say more about the public's overall distrust of government than its views on aliens.)
Even for those who don't really think aliens might attack Earth, we say it's an interesting poll question – essentially prodding which candidate voters would prefer at the helm in the case of a sudden, terrifying crisis that threatens the world's very existence.
---