Obama N.Y.C. fundraiser: Is NoMad hipper than Sarah Jessica Parker's place?
(Read article summary)
President Obama is to attend a fundraiser Monday in trendy 'NoMad' district in New York. Quick, where is that? Even New Yorkers aren't sure.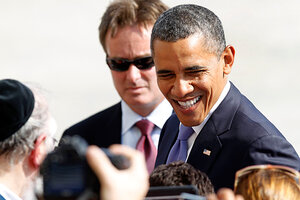 Jason DeCrow/AP
New York City is chock-a-block full of neighborhoods recognizable by people far outside the city: There's SoHo and "the Village," Hell's Kitchen and, of course, Wall Street. Now, President Obama arrives for a Big Apple fundraiser in NoMad.
NoMad, you ask? Is that a real place?
Even some New Yorkers scratch their heads.
"NoMad – they call it that?" asks the bartender at the Ace Hotel, which many credit with giving some cachet to a neighborhood north of Madison Square that until recently was a no-name district of wholesale shops for jewelry, perfume, luggage, and T-shirts. The hotel is filled with well-dressed young people, working (mostly on Macbook laptops) and, later in the day, having drinks.
"I'd say we're in Flatiron, or Midtown," says a hostess at the Ace. "But yeah, some people say NoMad. I think that's a real estate thing though."
Manhattan has few places without a defined name, identity, and history. But the president's stop at the NoMad Hotel Monday evening, which should net him about $2.4 million (with 60 guests paying $40,000 a head), appears to have landed him in one of those neighborhoods.
The NoMad Hotel at 28th and Broadway, named for its location north of Madison Square Park, opened earlier this year. It may well be the hippest spot so far for a presidential shindig – and one that helps to give an identity to a part of the borough that most people view as a blank.
"Until about five years ago it was sort of a grey area on the map, because it hadn't had a kind of identity of its own," says Richard Falk, communications director for Kew Management, a company that owns and operates buildings in the area. The area – south of Midtown, north of Union Square, east of Chelsea – was first referred to as NoMad in 1999, but the name has started to stick during the past year or two, as more hotels and restaurants have moved into the neighborhood, says Mr. Falk.
---