Health-care reform: Has Team Romney embraced the individual mandate?
(Read article summary)
Conservatives have howled over the health-care reform law's requirement that people buy insurance. But recent comments from the Romney campaign have some wondering if the presumptive GOP nominee is now embracing it.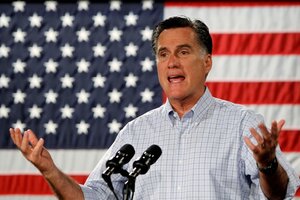 Charles Dharapak/AP
Has Team Romney endorsed the individual mandate, the central pillar of President Obama's health-care law that the GOP otherwise loves to hate?
A Romney official seemed to indicate that Wednesday.
Commenting on the harsh ad just released by a pro-Obama "super PAC," in which an ex-steelworker basically blames Bain Capital for his uninsured wife's death, spokeswoman Andrea Saul told Fox News that "if people had been in Massachusetts, under Governor Romney's health-care plan, they would have had health care."
Yes, they would have, because the law Romney signed into office when he ran the Bay State requires it. (It also includes subsidies to help lower-income residents purchase insurance, as does Mr. Obama's national law.)
It's possible Ms. Saul's reference was inadvertent. But Romney, who has aggressively distanced himself from his landmark legislation, appeared to cautiously embrace it during an appearance Wednesday in Des Moines, Iowa.
"We've got to do some reforms in health care, and I have some experience doing that, as you know," Romney said.
---