Amid gun control debate, does 'skeet-gate' matter?
(Read article summary)
Obama's comment about going skeet shooting 'all the time' at Camp David raised eyebrows and sent many reporters on a hunt for evidence. Does the president's personal experience with guns matter to the gun control debate?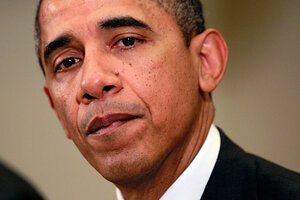 Jason Reed/Reuters
As Washington engages in a fierce debate over gun control, does it matter whether President Obama has personally ever shot a gun? Would it change things to learn that he'd fired a weapon a total of five times in his life? Or 50? Or 500?
We ask this, of course, because of the ongoing minicontroversy over Mr. Obama's statement in a recent interview with The New Republic that "we do skeet shooting all the time" at Camp David.
It may have seemed at the time like a casual, offhand remark – Obama certainly didn't claim he's a hunter or a real gun enthusiast (though he made clear he has great respect for those who are). But it was immediately challenged by many who smelled, if not an outright falsehood, then a likely exaggeration.
Rep. Marsha Blackburn (R) of Tennessee challenged the president to a skeet-shooting contest. Reporters pressed White House Press Secretary Jay Carney for details of the president's adventures in skeet shooting – or better yet, a photograph of Obama engaged in said activity – to no avail. The New Republic briefly posted what it believed was an official photo of Obama wielding a gun at Camp David, but that turned out to be an Internet hoax.
---