Karl Rove takes on the tea party. Is a GOP civil war looming?
(Read article summary)
GOP strategist Karl Rove launches a group to back candidates it sees as most electable, reports say. Tea party groups and others are crying foul.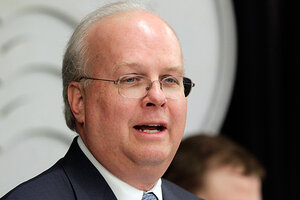 Tony Gutierrez/AP/File
Is the Republican Party's internal warfare about to get a whole lot worse?
Over the weekend, The New York Times's Jeff Zeleny reported that the Republican establishment is taking quick strides – via a new political group created by strategist Karl Rove – to fix what they've taken to calling their "Todd Akin problem." They'll be giving support in Republican primaries to the candidates they see as most electable.
Former Rep. Todd Akin (R), as you may recall, was the 2012 Missouri Senate candidate who lost what was widely seen as a winnable race after he said that cases of "legitimate rape" rarely resulted in pregnancy. The remarks were widely ridiculed – including by many in Mr. Akin's own party – and have been cited repeatedly by party bigwigs as examples of "stupid," self-inflicted wounds that cost Republicans a chance at controlling the Senate.
Predictably, however, Mr. Rove's effort is already being met with cries of outrage from tea party groups and others who see it as a misguided slap in the face to the base. They view Rove as a faux-conservative strategist who took the party in the wrong direction throughout the Bush years and spent an epic amount of money in 2012, only to see most of his candidates lose.
---