The State of the Union is ... boring?
(Read article summary)
Tens of millions of Americans are expected to tune in to President Obama's State of the Union address. The dirty little secret surrounding these events is that, for all the anticipation and coverage, they are usually snoozers.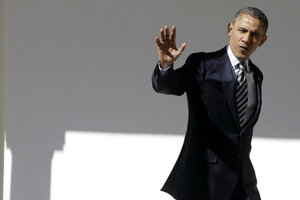 Charles Dharapak/AP
Let's be honest: The State of the Union – the speech, not the condition of the nation – is usually pretty dull.
For all the hype that typically surrounds the president's annual address to Congress, the dirty little secret among most political reporters is that the speech itself is often a snoozer. Too long, too laden with nods to various interest groups, containing too little that's really new or ever likely to become law. And President Obama's address Tuesday night will probably be no different.
In general, State of the Union addresses are remembered for being "laundry lists" rather than memorable or inspiring bits of oratory. And because this will be Mr. Obama's fourth official State of the Union address (and his fifth speech before a joint session of Congress), it's pretty unlikely that we're going to hear much in the way of brand-new policy proposals that we haven't already heard about, in one form or another. Not to mention the fact that most of what he puts forward will have little chance of actually getting through the Republican-led House, anyway.
Last weekend, on "Fox News Sunday's Panel Plus," left-leaning analyst Juan Williams, in previewing the speech, said: "I think this has to be a bolder speech than we're accustomed to in terms of formal addresses the president has made to the Congress." He then confessed: "I don't really remember the first four. What I remember is things like people yelling out, 'You lie!' or [US Supreme Court Justice] Sam Alito mouthing, 'That's not true.' I remember all that. But I don't remember [what Obama said]."
---