North Korea's threat to restart shuttered reactor: Bluster or big problem?
(Read article summary)
North Korea said Tuesday it would restart a nuclear reactor capable of making fissile material for bombs. At least one expert sees it as North Korea's 'most worrisome' threat yet.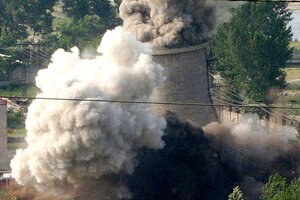 Gao Haorong / Xinhua / AP / File
North Korea on Tuesday said it will restart a shuttered nuclear reactor capable of producing fissile material for weapons and "readjust" other facilities at its sprawling Yongbyon nuclear facility some 55 miles north of Pyongyang.
Is this just empty rhetoric from a regime trying to test the resolve of South Korean and US leaders? Or is it a genuinely worrisome development in an increasingly tense area of the world?
The answer to that question may depend upon North Korea's follow-through. It's possible the warning is just words and that construction at Yongbyon won't actually accelerate. It's also possible the Pyongyang regime will now rebuild the facility that produced the plutonium for at least two of North Korea's nuclear tests. That would not be a good thing.
"Among Pyongyang's recent inflated threats, the announced intention to 'readjust and restart' its nuclear facilities is the most worrisome," writes International Institute for Strategic Studies nuclear expert Mark Fitzpatrick in his analysis of the event.
The main issue may be what happens to the Yongbyon plutonium production reactor. This facility, which first went critical in 1985, can produce enough dangerous fissile stuff for about one small nuclear weapon per year. It was shut down in 2007 per international disarmament talks (which have since stalled). In 2008 North Korean officials made a show of imploding its aging cooling tower, issuing rare invitations to international journalists to visit and see the destruction.
---