Obama's tattoo plan: Tattoos for Dad, too. Will that gambit work?
(Read article summary)
Obama's tattoo plan: Ink is a distant prospect, at least in the highly protective White House years. Still, President Obama has a high-risk plan for his daughters to prompt second thoughts. Will it really work?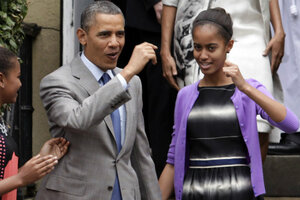 Yuri Gripas/Reuters/File
Have you heard about the Obama family plan to keep daughters Sasha and Malia from getting tattoos? President Obama talked about it yesterday on the "Today" show. It's sort of based on assured mutual deterrence. Or preemption – you could call it that, too.
"Michelle and I have used the strategy when it comes to things like tattoos – what we've said to the girls, 'If you guys ever decide you're going to get a tattoo, then mommy and me will get the same exact tattoo in the same place," Mr. Obama told "Today" journalist Savannah Guthrie. "And we'll go on YouTube and show it off as a family tattoo. And our thinking is that might dissuade them from thinking that somehow that's a good way to rebel."
Wow, that's interesting, in the sense that it's a fairly coherent and intellectualized way to approach this common parental problem. But here's our question: Will that really work?
No, as a parent of two teenagers, Decoder does not think it is a successful long-run strategy, either.
Oh sure, it's worked for now. They're still kind of young. Malia is 14 and Sasha is 11. They're not marching into any tattoo parlor near Sidwell Friends School in upper northwest DC. First, there aren't any – they can't afford the rents there. Second, you've got to be 18 to get a tat in the city, we believe. The City Council approved that move recently.
So they'd get thrown out, for being under age and because few tattoo parlors care to have Secret Service watchdogs at their door.
---