Edward Snowden: Who is he, and what kind of life is he leaving behind?
(Read article summary)
Edward Snowden, who leaked the information on the NSA's monitoring program, was a well-paid analyst for a consulting firm with a girlfriend and a home in 'paradise' (Oahu). All gone now.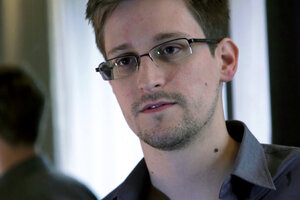 The Guardian/AP
In the interest of revealing what he saw as the privacy violations of millions of Americans by their own government, Edward Snowden, 29, has likely forfeited his future at an age when most young adults are still shaping the arc of their lives.
A high school dropout turned analyst with high-level security clearance, he's now a wanted man whose name is Googled around the globe and face flashed on airport television screens from Washington to Hong Kong, where he fled before he identified himself as the source of leaks revealing the National Security Administration's programs to electronically monitor citizens.
Bespectacled and serious in the videotaped interview with the journalists who broke his story, Mr. Snowden is now a hot topic of debate: Whistleblower or traitor? Will he be extradited? Face jail time?
So who is he? What life does he leave behind?
First off, effective immediately, he is unemployed. Booz Allen Hamilton, the consulting firm, has fired him. Reports suggest he was making $122,000 as an infrastructure analyst.
Before embarking for Hong Kong, Snowden was living in Hawaii – "paradise," he called it – with a girlfriend, Lindsay Mills. Together, they rented a three-bedroom home in the Waipahu community on the island of Oahu, according to USA Today.
---