Is Sarah Palin an Alaskan? 46 percent of voters there don't think so.
(Read article summary)
This new poll finding comes as Sarah Palin ponders a 2014 run for US Senate. The poll also finds that she's in the lead over other possible Republican candidates, but it shows her losing to incumbent Sen. Mark Begich (D).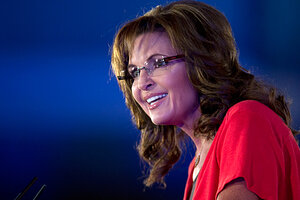 Carolyn Kaster/AP/File
Call it the birther crisis du jour! And this time, President Obama is off the hook.
It seems, if new polling data are to be believed, that Alaskans aren't quite sure former Gov. Sarah Palin is actually one of them.
You betcha!
The survey, released Tuesday by Public Policy Polling (PPP), indicates that 47 percent of voters still consider her to be an Alaskan, while 46 percent do not. This revelation – or confusion – comes as Ms. Palin ponders a 2014 run for US Senate.
She has said she's willing to launch a campaign, though she would have to emerge from a potentially crowded Republican field to take on incumbent Democratic Sen. Mark Begich, who is seeking a second term.
Perhaps Palin has logged too much time on the national speakers circuit or chattering on Fox News, for which she's an on-air commentator.
Palin's relationship with voters in Alaska has grown tense in the wake of her unsuccessful 2008 run for vice president and then her decision to abandon the governorship halfway through her only term. It seems Palin, once the mayor of Wasilla, is out of state and out of mind. Hardly an ideal perch from which to seek office.
The PPP poll also reveals that 37 percent of Alaska voters think it would be more appropriate for her to run for the Senate from Arizona. We're sure Sen. John McCain (R), Palin's 2008 running mate and Arizona's senior senator, might have an opinion about that.
When Palin first floated an interest in running, Senator Begich questioned whether Palin still lived in Alaska. So perhaps he has planted this seed of doubt in the minds of voters, if they hadn't already grown weary of Palin's national commitments.
"I don't know if she's a resident," Begich told Politico earlier this month. "She's been away from Alaska a lot and has probably lost touch with what's going on.... Most Alaskans I see on a pretty regular basis, but I haven't seen her for a long time."
---