RNC chief doubles down on debate boycott. Smart move for GOP?
(Read article summary)
CNN and NBC remain in the cross hairs of Republican National Committee chief Reince Priebus, over their plans for programs about Hillary Clinton. His threat to boycott those networks during the GOP presidential debates has its strategic advantages.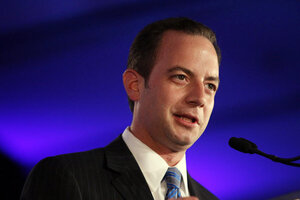 Patrick Semansky/AP/File
Over the weekend Republican National Committee chief Reince Priebus doubled down on his threat to withhold 2016 GOP presidential debates from CNN and NBC if the networks air planned programs on Hillary Rodham Clinton.
On CNN's "State of the Union" Sunday, host Candy Crowley asked Mr. Priebus whether he'd throw Fox News into the debate penalty box as well, given a New York Times report that a Fox sister company is in talks to produce the Hillary Clinton miniseries now slated to appear on NBC.
Priebus made it clear Fox would not be included in any RNC boycott. First of all, he downplayed the Times report, saying he "doesn't know the truth of anything you're talking about," and that "I'm not going to boycott the food trucks that service all of the same companies."
Then he said he's really aiming at the networks that may put Clinton shows on the air, whether the programs are scripted entertainment dramas or news documentaries.
---