Hillary Clinton watch: What's behind Hillary's Big Issue speaking tour?
(Read article summary)
Hillary Clinton launches a major series of speeches on issues ranging from voting rights and 'transparency' in national security to US global leadership. Some see the prelude for a 2016 presidential run.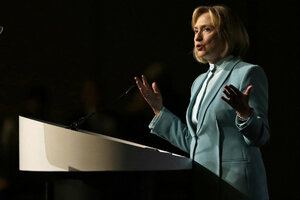 Eric Risberg/AP
In the first of a series of speeches on the erosion of Americans' faith in government, Hillary Rodham Clinton laid out a case Monday night in support of the Voting Rights Act.
"Anyone that says that racial discrimination is no longer a problem in American elections must not be paying attention," Mrs. Clinton said during the American Bar Association's annual gathering in San Francisco.
Any high-profile public appearance by the former secretary of State stokes buzz that she's likely to launch a presidential bid for 2016. But what's notable about Monday night's address is that her comments were plainly political in nature – and clearly targeted to the Democratic Party base.
When Clinton ran for the White House in 2008 as the presumed front-runner, she found herself in a sustained primary battle with then-Sen. Barack Obama, and it was Senator Obama, despite his newness to the national scene, who made a love connection with the liberal Democrats who tend to vote in primary contests.
---