Has Anthony Weiner peeved Hillary Clinton?
(Read article summary)
Act 2 to a sexting scandal was a blow, but what has riled Clintonworld is Anthony Weiner's apparent claim to have inside knowledge of a Hillary Clinton 2016 campaign – via his wife, Huma Abedin.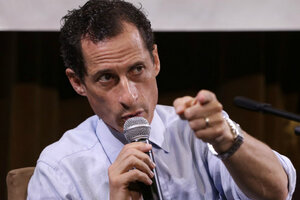 Seth Wenig/AP
New York City mayoral candidate Anthony Weiner has got himself into even more trouble this week. You'd think that would be difficult given the sexting scandal that drove Mr. Weiner from Congress and has pushed his poll ratings toward the basement. But apparently it's not impossible, as it now looks like he's irritated Hillary Rodham Clinton, or at least members of her political team.
For a New York Democrat with past ties to the Clintons, that's a misstep that could result in permanent exile to the private sector. Of course, that's a place he appears headed anyway, given the current sentiment of New York City voters.
The kerfuffle started Monday when Weiner told BuzzFeed in an interview that he's aware of the role Huma Abedin, his wife and a top aide to Mrs. Clinton, will play in an upcoming 2016 campaign.
"I do know.... I'm not going to tell you," Weiner said.
This resulted in headlines like "Weiner hints at Clinton run" and so forth. Given that Clinton herself has been pointedly noncommittal and that there are good political, legal, and familial reasons why she shouldn't commit herself now even if she's made up her mind to run, which she probably hasn't, Weiner's words seemed a breach of etiquette, at the least.
His comment, writes The Atlantic Wire's Abby Ohlheiser, "seemed to break a big rule of talking about the Clinton campaign: It's not even officially happening yet."
Weiner subsequently tried to walk back his remark, saying it was meant to be humorous. "I'll try to make the jokes more obvious," he told ABC News.
But Clintonworld appeared unamused.
---