NSA broke privacy rules. Are latest revelations big, or same-old?
(Read article summary)
The number of NSA privacy violations tied to surveillance programs – 2,776 in one year – seems big, but there's no context for judging. The revelations, however, appear to contradict Obama's assurances that the NSA acts with care and propriety.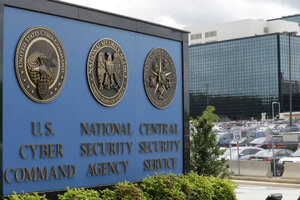 Patrick Semansky/AP
National Security Agency eavesdropping has broken privacy rules thousands of times annually in recent years, according to a new Washington Post report.
The violations generally involve interception of the communications of Americans or foreigners located on United States soil. That's an activity that is subject to tight controls from both presidential executive orders and US law, writes the Post's Baron Gellman.
Infractions "range from significant violations of law to typographical errors that resulted in unintended interception of US emails and telephone calls," Mr. Gellman writes.
For instance, in 2008 NSA personnel inadvertently intercepted a large number of phone calls from Washington when a programming error mixed up the D.C. area code, 202, with the international dialing code for Egypt, 20.
In another undated incident, the NSA did not reveal a new method of collecting communications to the Foreign Intelligence Surveillance Court, a judicial body that oversees some NSA snooping, until it had been in operation for months. The FISA court struck down the new method as unconstitutional.
Overall, the NSA totaled up 2,776 violations of rules or laws from May 2011 to May 2012, according to an internal audit disclosed by the Post. This included unauthorized collections of communications, as well as unauthorized storage and distribution of collected material.
---