Unemployment rate drops: how to read Friday's jobs report
(Read article summary)
The unemployment rate dipped to a five-year low of 7 percent in November. That's good. But that figure does not really measure the total number of out-of-work Americans.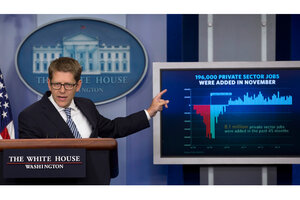 Carolyn Kaster/AP
The monthly jobs numbers are among the most important and anticipated economic measures produced by the federal government. On Fridays prior to their release, reporters, economists, and number nerds gather on Twitter and other social media and count toward the magic hour of 8:30 a.m. Eastern time as if they're football fans awaiting Game Day kickoff.
Then "Boom!" the Bureau of Labor Statistics (BLS) releases the report, and immediately experts are racing through it to divine its meaning. The top-line unemployment rate seems clear enough, and usually it's indicative, but then all those folks on CNBC start rattling off sub-numbers to make subsidiary points. They'll say stuff like "non-farm seasonally-adjusted retail payrolls are flat, so the markets will freak out like tweener girls!" and so on.
After that they start throwing around "U-6" and "monthly revisions" and arguing about what the Fed will do, so you switch to PBS in search of old British sitcoms. Is the jobs report really that complicated?
Well, it's got a lot of things in it. The actual report is some 40 pages of data. But here's our guide to a trick (or two) that will help you make sense of the numbers and sound like an expert to boot.
We'll start with Friday's report on November's job situation. Unemployment dipped down to a five-year low of 7 percent. That's good – it shows that hiring has picked up and remained strong since mid-summer. It's better than many experts expected. Americans with jobs are working more hours and their wages are going up a bit.
"The numbers amount to confirmation that the jobs recovery remains underway, is well-entrenched, and is solid and steady," concludes Neil Irwin, economic czar of the Washington Post's Wonkblog.
But here's the trick: the unemployment rate does not really measure the total number of out-of-work Americans.
---