Nationwide 'teach-in' planned to address climate change
Piles of coal, battling windmills, and political leaders descend on college campuses.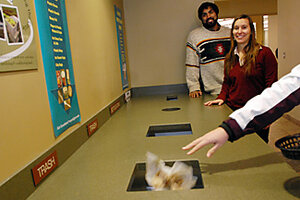 Mary Knox Merrill - staff
In Springfield, Mo., college students are about to see quite vividly how much energy they consume. Piles of coal will be on display in proportion to what's needed each day to power their dorms, computers, and dining halls.
At Radford University in Virginia, students may stumble upon a mock fight between a windmill and a smokestack (costumes courtesy of the campus Green Team).
At the University of Vermont in Burlington, audience members will be encouraged to bike or walk to a one-woman show in which the fictional first lady calls for a boycott against sex until the nation starts a serious dialogue about climate change.
The creative tactics are designed to draw students into a series of events this coming week known as Focus the Nation: Global Warming Solutions for America. Organizers bill the culminating day, Jan. 31, as the largest teach-in in the nation's history, drawing parallels to the civil rights and antiwar movements of the 1960s and '70s. More than 1,500 institutions, most of them colleges and universities, will host classes, documentaries, performances, energy-saving competitions, and discussions with political leaders.
Eban Goodstein, the man behind the mission, speaks about it urgently: "What our kids have to do is truly heroic," he says. "If they're going to stabilize the climate for their children, they have to rewire the entire planet with clean-energy technology."
---