Refugees find refuge as college students in Vermont
Champlain College awards scholarships to Rwandans, Vietnamese, and others, enriching recipients and fellow students.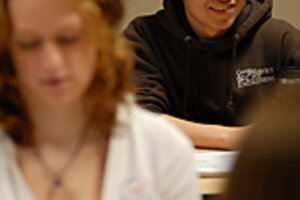 Mary Knox Merrill - staff
When Champlain College president David Finney saw a documentary about the challenges that refugees face in the United States, he thought of the displaced people who had landed in his own community. With Burlington, Vt., designated as a refugee resettlement city, "it was a short leap to think 'We can really make a difference," he says. "It occurred to me that these families are kind of on the knife edge of ... either the cycle of the great American dream – of good jobs and prosperity – or a cycle of poverty."
Champlain College launched the New American Student Scholarship in the fall of 2006, offering substantial support for refugees living in Vermont. Eighteen scholars have enrolled at the 2,000-­student campus from such countries as Bosnia, Rwanda, and Vietnam. The number could grow to 50 or 60 over the next several years.
Champlain officials aren't aware of other colleges offering this type of scholarship. For them, it fits into broader plans to diversify a campus where the majority of students grew up in Vermont. "Education is a lot richer if the classroom has multiple voices ... and these [refugee] students come with a worldview that is very different than the average, relatively parochial American student," Finney says. He believes that such interaction better equips students for a globalized job market.
---