Meet the 'proverbial' scholar
Wolfgang Mieder has collected more than 10,000 items relating to truths in 10 words or less.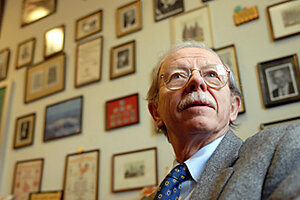 Mary Knox Merrill - staff
Paremiology – the study of proverbs, from the Greek "paroimia." I stumble across this curious word in my background research, but I haven't a clue what it really means until I meet Wolfgang Mieder in the office he shares with his proverb paraphernalia at the University of Vermont.
This animated gentleman has built up a worldwide reputation during his 30-plus years of reveling in the common phrases people use to persuade, humor, or moralize.
But the scope of Professor Mieder's devotion isn't fully apparent until he hands over a volume of his international bibliography of proverbs. (He has annotated entries for more than 7,000 publications, and by the end of May that number will have climbed to include all 10,000 publications in his archive.) A chance opening to the "M" section reveals page after page full of references to books and articles authored by "Mieder, Wolfgang."
"It's kind of sick, yah?" he says, his German accent persisting after four decades in the United States. He often jokes his passion keeps him out of trouble. "Just imagine what I'd be doing if I weren't doing this!" He lets out a quick belly laugh before getting back to business.
In the index, he notes, you can look up "anything you want – from mathematics to sex to love to animals to meteorology.... Proverbs are ubiquitous and they deal with every aspect of life. That's what has fascinated me."
What, exactly, is a proverb? "A concise statement of an apparent truth, which has had, has, or will have currency," he says, adding that it's generally 10 words or less. "You need ready-made formulaic expressions that you can pull out of your drawer, so to speak."
---