Bush was hands-on for education, healthcare; hands-off for planet
No Child Left Behind and Medicare expansion were bold strokes. On global warming, he moved glacially.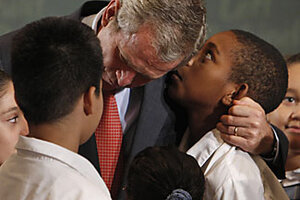 Charles Dharapak/AP/File
In domestic policy, President Bush leaves a deep imprint on public schools, healthcare, and the twin issues of energy and the environment. Synopses are below.
Education reform
The No Child Left Behind Act, forged amid bipartisanship, took effect just a year into the Bush presidency. Groundbreaking in its promise, it proved heartbreaking, to many, in its implementation.
"The key legacy is that it has focused the nation's attention on closing the achievement gap," says Michael Petrilli, a policy expert at the Thomas B. Fordham Institute and a former official in the US Education Department under Mr. Bush. But "it's caused a backlash to testing and standards-based reform."
Concerned about what Bush termed the "soft bigotry of low expectations," NCLB supporters aimed to hold schools accountable for academic progress among all students. Prior to its mandate, many states did not test regularly to see if students were reaching math and reading standards, nor were they required to show scores by categories such as race and income level.
It's arguable whether testing – and the interventions when schools fail to meet improvement targets – has helped struggling students enough. Reading and math scores are higher at the lower end of the achievement scale, and some racial gaps have narrowed. But analysts say such gains were under way before the law took effect.
---