Lessons from most successful schools abroad
Education trends from other nations are gaining cachet as political and educational leaders strive to bring American schools in line with the demands of the 21st-century global economy.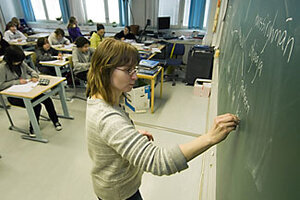 Petri Krook/Special to The Christian Science Monitor
After each 45-minute class, students at the Vaajakumpu Primary School in Finland suit up in their snow gear, and for 15 minutes, they frolic on ice skates, sleds, and skis.
These breaks provide a clear contrast between Finnish schools and their recess-starved counterparts in the United States. But it's not the contrasts on the surface that have prompted thousands of educators from around the world to visit this Nordic nation. Rather, it's their curiosity about what underlies an education system that boasts some of the highest scores among countries on PISA – a test of reading, math, and science literacy for 15-year-olds.
No single factor can explain the students' strong showing. They grow up in a highly literate, bilingual society (Finnish and Swedish, with most learning English as well). Finns also enjoy strong governmental supports for parental leave, day care, and healthcare (in exchange for high taxes), which means that problems associated with poverty don't show up at the schoolhouse door nearly as often as in the US.
One essential element, though, is the high caliber of Finland's teaching corps, education leaders say. "We trust our teachers," says Reijo Laukkanen, head of international relations at the Finnish National Board of Education in Helsinki. "That is very important, and it's not easy to realize in all countries – the culture of trust we have in Finland."
Since 1979, master's degrees have been required for teaching in primary and secondary schools. And the profession is so popular – even with its moderate salaries – that only 10 to 15 percent of applicants make it into university teacher-education programs.
---