TeacherMate: This classroom tool only looks like a toy
Cheap and rugged, the device takes a gaming approach to elementary reading and math.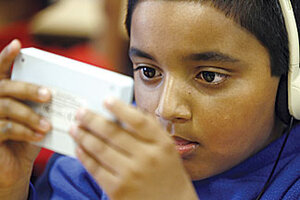 tony avelar/the christian science monitor
Sonny Wong strides to the middle of her first-grade classroom at the Francis Scott Key Elementary School in this city's often-foggy Outer Sunset District.
"One, two, three, all eyes on me," commands the young teacher, prompting the room of children – mostly the sons and daughters of Asian immigrants – to pay attention to Ms. Sonny, as they call her, at least for a moment.
"What kind of voices should we have when we're on our TeacherMates?" she asks, after passing out what look like toy gadgets, à la Nintendo's Game Boy. "Soft," they respond in unison, as they fidget with the plastic minicomputers, switching them on and plugging in headsets.
These hand-helds aren't slick or fancy. They are simple, cheap, and rugged. That's the point, says Seth Weinberger, the Evanston, Ill., lawyer who invented the $100 TeacherMate and over the past year has gotten them into 350 classrooms across the country.
The device seems, well, elementary. Children peer at their small screens, playing basic math games or working on reading, vocabulary, and spelling exercises. They also read or say words into a microphone on the TeacherMate, which records and stores their voices so teachers can later assess their progress.
When the kids finish, their math scores and spelling results get plugged into the teacher's computer. Teachers can adjust skill levels – making it harder for kids who zip right along or easier for those lagging behind.
---