Which states are innovative in education? A new report card.
The report card aims to highlight the sorts of innovations in education – such as an extended school day – that lead to better schools.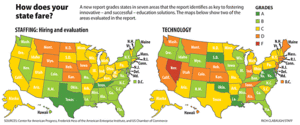 Rich Clabaugh/Staff
If states truly want to improve their education systems, they need to do away with the rules, regulations, and bureaucracies that stymie innovation.
That's one message from a new report that measures states on how well they foster education innovation, grading them in areas ranging from finance and school management to how well they hire effective teachers and remove ineffective ones.
Ultimately, say the report's authors, they hope not to prescribe new fads or "silver bullet" solutions, but to highlight the sorts of innovations that are leading schools where they need to go.
"A lot of the states have tried some things, but they haven't tried all the things we argue would be useful to creating a more innovative environment for success," says John Podesta, president and CEO of the Center for American Progress, one of the report's authors. "States have a lot to learn from each other."
The report, "Leaders and Laggards," has an unusual consortium of authors: the liberal Center for American Progress, Frederick Hess of the conservative American Enterprise Institute (AEI), and the US Chamber of Commerce – a bipartisan mix that the authors hope highlights just how much agreement can be found despite the fervent political battles that often surround education debate.
---