Education reform: California to join Race to the Top rush
States are scrambling to pass education reforms to be eligible for the Obama administration's $4.35 billion in Race to the Top grants. California was set to confirm far-reaching reforms Tuesday.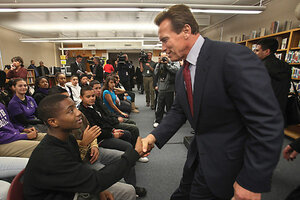 Rich Pedroncelli/AP
On Tuesday, California legislators were set to pass a major education reform package that a few months ago would have been unthinkable.
Tennessee Gov. Phil Bredesen has called a special session of the legislature to consider education reforms, including a controversial measure to link teacher evaluations to student test scores.
And in December, Michigan lawmakers passed a slew of major education laws that will affect charter schools, teacher accountability and evaluations, and merit pay.
The reason for the flurry of activity in these and other states: the $4.35 billion in competitive federal Race to the Top grants. States are scrambling to position themselves before the Jan. 19 application deadline.
"Politicians have so much to worry about that the Race to the Top money, and the need of states for additional money, and the deadline of the application have focused their attention in an extraordinary way," says Jack Jennings, director of the Center on Education Policy in Washington. "You see state laws being changed throughout the country."
States' stampede for cash
---