Obama proposes new way of uniformly raising academic standards
Under Obama's plan, states would be eligible for federal Title I funding only if they adopt new academic standards that are certified as 'college- and career-ready.'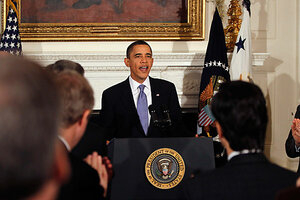 Jason Reed/Reuters
President Obama made clear Monday his commitment to raising academic standards in all states.
Under a new proposal, states would be eligible for federal Title I funding – the money set aside for poor students – only if they adopt new standards that are certified as "college- and career-ready."
That's been the new buzzword in education circles lately, and that idea is providing a big push to the common standards that the National Governors Association (NGA) and the Council of Chief State School Officers are developing. The standards are set to be finalized this spring.
Currently, states adopt their own standards, and many have lowered theirs to make it easier for students to reach a proficient level: Thirty-one have set fourth-grade reading proficiency standards that are lower than the "basic" level determined by the National Assessment of Educational Progress (NAEP), according to a White House briefing. Between 2005 and 2007, 11 states lowered their standards in math.
"That may make those states look better relative to other states, but it's not going to help our students keep up with global competition," Mr. Obama told a gathering of the NGA on Monday, as he went on to outline his proposal. "If a university, state, or school district begins preparing educators to teach to higher standards, we'll give them the support that they need."
He added, "To make sure we're delivering for our kids, we're launching a competition to reward states that join together to develop the highest-quality, cutting-edge assessments required to measure progress, and we'll help support their implementation."
---