Kansas City to close 26 schools. Unprecedented move in US?
Education experts say they can't recall when so many of a district's schools have been closed. The Kansas City school district has struggled for years with declining enrollment and integration issues.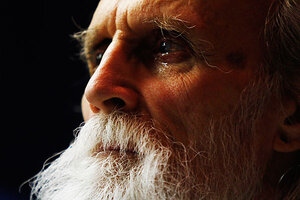 Ed Zurga/AP
It's the end of the road for nearly half the schools in Kansas City, Mo. – a district that has struggled for decades to integrate and boost achievement amid plummeting enrollments.
The board of education voted 5 to 4 Wednesday to close 26 schools and several other sites, including its headquarters. The consolidation will also involve cutting hundreds of teaching positions and support staff.
The closure decision has been "difficult ... and emotional" for the community, superintendent John Covington acknowledged at a press conference Thursday. But he and the board decided that his "Right Sizing" plan is necessary to save about $50 million and stave off bankruptcy.
Now the details have to be worked out so this fall, the district's nearly 18,000 students can adjust to new bus routes, make new friends, and get used to some sites where everyone from kindergartners to high-schoolers will share space.
"When your building closes ... it's always difficult.... But we could not continue to run buildings that were only a third full and had classes with six or seven kids," says Andrea Flinders, president of the Kansas City Federation of Teachers & School-Related Personnel, which had input on the plan. "We can use our resources a lot more effectively if we can get this district down to the right size."
Although school districts nationwide are dealing with big fiscal challenges, education experts say they can't recall anywhere that the share of schools closing at any one time has been this large.
---