Obama's plan for education reform: short on specifics, so far
President Obama will send a framework for K-12 education reform to Congress on Monday, citing concern about students' lagging performance relative to that in some other industrialized nations.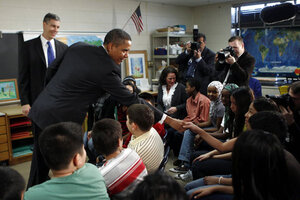 Kevin Lemarque/Reuters
President Obama will send the outlines of an education overhaul bill to Congress on Monday, promising sweeping changes to a faltering American education system.
While short on specifics, Mr. Obama said he wants to push for more local control of schools, recognize and reward excellence among students and teachers, emphasize math and science, build better standardized tests, and in general raise expectations for American schools in the cities, the suburbs, and the country.
"Now, debates in Washington tend to be consumed with the politics of the moment: who's up in the daily polls; whose party stands to gain in November," Obama said in his weekly Saturday radio address. "But what matters to you – what matters to our country – is not what happens in the next election, but what we do to lift up the next generation."
Obama went on to say: "What this plan recognizes is that while the federal government can play a leading role in encouraging the reforms and high standards we need, the impetus for that change will come from states, and from local schools and school districts. So, yes, we set a high bar – but we also provide educators the flexibility to reach it."
---
Follow Stories Like This
Get the Monitor stories you care about delivered to your inbox.