US 'report card' on reading: 8th-graders gain, 4th-graders don't
Reading among 4th-graders did not improve for the first time since 2003, the latest NAEP scores show. The report, known as the 'nation's report card,' shows a slight gain among 8th-graders.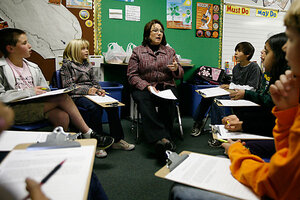 Newscom/File
For the first time since 2003, America's fourth-graders failed to make any improvements in reading, according to a report released Wednesday from the National Assessment of Educational Progress (NAEP), also known as the "nation's report card."
For most of the past decade, elementary school students have made steady progress on reading, math, and other subjects, while eighth-graders and high-schoolers have shown more mixed performance. Between 2007 and 2009, it was the eighth-graders who made some slight gains, while fourth-grade scores were virtually unchanged.
Most achievement gaps – between whites and blacks, whites and Hispanics, boys and girls, public school and private school students, and low-income students and their middle- or upper-income peers – also remained unchanged compared with 2007 and with 1992, when NAEP was first administered. The black-white gap for fourth-graders and the male-female gap for eighth-graders have narrowed some since 1992.
Overall, "we've stopped making gains, we've stopped closing gaps ... and the last thing we need right now is an educational recession," says Amy Wilkins, vice president of Education Trust in Washington, which works to close achievement and opportunity gaps. "It's quite clear ... that a big part of the way out of our [national economic] troubles is an educated workforce."
---