Three years after Virginia Tech shooting, college gun bans prevail
Gun rights activists argued that concealed carry laws may have been a protection during the Virginia Tech shooting. But states have not moved to allow concealed weapons on college campuses, though student groups continue to lobby to lift gun bans.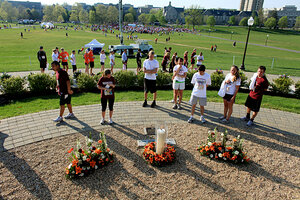 Jeanna Duerscherl/The Roanoke Times/AP
The mass shooting at Virginia Tech, which killed 32 people three years ago Friday, touched off an intense debate over whether colleges should remain gun-free zones, or whether allowing students and faculty to carry concealed weapons might have resulted in fewer deaths. Though the debate continues, so far colleges have generally declined to move to allow concealed guns on campus – and most state legislatures have not forced them to do so.
Today 26 states prohibit conceal and carry on college campuses, and 23 states leave the decision to the schools, according to the nonpartisan Project America. In these 23 states, a large majority of colleges prohibit conceal and carry.
Only Utah has a 2004 law requiring publicly funded schools to permit students over 21 with conceal and carry licenses to carry guns on campus.
"After Virginia Tech, we faced a push by the gun lobby to expand conceal-and-carry rights at colleges," says Andy Pelosi of the Campaign to Keep Guns Off Campus. "But we have been trying to raise awareness, and more and more people are joining our cause."
This year at least 10 state legislatures are considering bills dealing with guns on campus, he says.
Gun rights proponents argue that colleges should allow students and faculty to carry concealed weapons as a deterrent and as a means of protection in situations such as the Virginia Tech shooting, in which a student with a history of mental illness went on an extended rampage against fellow students and faculty before shooting himself. Gun control advocates respond that allowing students to carry concealed weapons would create more violence, not less.
---