School budget cuts across the US projected for next academic year
As state and local governments slash spending and federal stimulus dries up, school budget cuts for the next academic year could be the worst in a generation.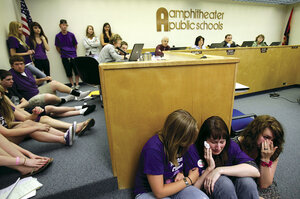 David Sanders/Arizona Daily Star/AP
The economy may be on the mend, but signs of decline still dominate in America's public schools as they plan their budgets for next year: Thousands of teachers once again brace for pink-slip season; more students will sit elbow-to-elbow in crowded rooms; computers that break down will sit unused; and kids will bring home longer lists of supplies – from crayons to sanitary wipes – that parents are supposed to buy for their classrooms.
"It's going to be the most difficult year we've had in probably 30 years," says Michael Griffith, a senior policy analyst with the Education Commission of the States in Denver. Even wealthier districts that have so far been insulated are starting to feel the pinch, he says.
While some of the roughly $100 billion in federal stimulus dollars for education will still flow during the next school year, continued state and local funding cuts are eating into their impact. To stave off an estimated loss of 100,000 or more education jobs, Sen. Tom Harkin (D) of Iowa proposed a $23 billion school bailout April 14, but it's not clear how quickly the proposal could move forward if it gains traction.
---