Education for All Act wants universal education back on track
Rep. Nita Lowey introduced the Education for All Act backing universal education on Wednesday in Washington. She says the bill will help produce a society more resistant to the teachings of terrorist organizations.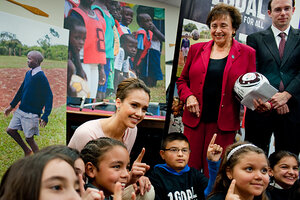 Newsom
With the decade-old goal of providing access to a primary-grade education to all the world's children by 2015 fast approaching, a new congressional effort is under way, aimed at boosting US leadership in the global education campaign.
Starting from the stark reality that 72 million children – mostly girls, and mostly in Africa – still lack access to a basic education, education experts are joining congressional leaders in calling for a redoubled national effort behind an existing but lagging international plan for making universal primary education a reality.
At a Capitol Hill press conference Wednesday, US Rep. Nita Lowey (D-NY) cited the touchy-feely truths that all children deserve an education to "realize their potential" and to "live healthier and happier lives." But the longtime promoter of international education initiatives quickly added the steely-eyed perspective that universal education is a US national security interest because "a better-educated society is more resilient against the teachings of terrorist organizations."
That point has been debated for years – the 9/11 hijackers were generally well-educated and some had advanced degrees – but references to it reflect the reality of a tough budget year when promoting new or reinvigorated foreign-assistance initiatives will likely prove difficult.
---