Congratulations, class of 2010 college graduates! Are you hired yet?
In a still-tight job market, college graduates have their sights set on more education and opportunities abroad. Demand is up for statistics, finance, and accounting majors.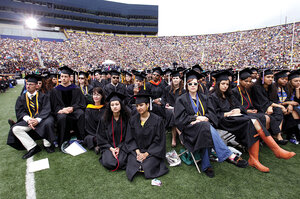 Kevin Lamarque/Reuters
About 1.65 million students in the United States will be tossing mortarboards to celebrate earning a bachelor's degree this commencement season. Here's a glimpse into the big transition they're making:
How is the job market for new college graduates?
It's holding steady or showing slight improvement compared with last year. But the job market was particularly dismal then, so much of the class of 2010 will probably be joining friends from '09 in the hunt for work.
Employers surveyed last fall planned to hire an average of 26.2 graduates this spring, compared with 26.8 in 2009, according to the Collegiate Employment Research Institute (CERI) at Michigan State University. In a March survey, the National Association of Colleges and Employers (NACE) found a 5.3 percent uptick in expected hiring, the first since October 2008.
The picture may improve in coming months, says CERI director Philip Gardner. "It's been a long year for these seniors," he says. "Some of them are discouraged, and they bailed out quickly to graduate school.... [But] if they have a strategy to look for work ... there are going to be jobs opening up now through the summer."
---