Harvard hoax: Adam Wheeler case points to rise of student fraud
Student Adam Wheeler is accused of masterminding a Harvard hoax, using fake documents to get into the university and secure financial aid. Student fraud is an growing problem, experts say.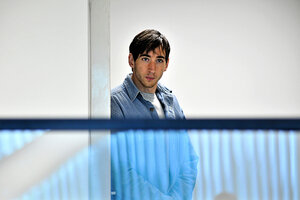 Josh Reynolds/AP
Little can be done to stop the ploys like the Harvard hoax, in which student Adam Wheeler allegedly lied his way into the elite Ivy-league school and landed $45,000 in financial aid and scholarships, according to a national college admissions expert.
As hinted at by the case at Harvard, student fraud, in which candidates for admission embellish their past, are increasing. This is partly because of the pressure to gain admission and partly because some of the most selective colleges are leaning toward less verifiable information when deciding whom to accept.
Generally, official academic transcripts and test scores are highly reliable, though the allegations against Mr. Wheeler suggest they are not foolproof. He is accused of using fraudulent transcripts and forged recommendation letters.
Typically, student fraud more commonly involves subjective data such as fluency in foreign languages, work experience, or extracurricular activities, which are receiving more weight in an effort to find distinguishing characteristics among uniformly excellent candidates.
"The more you step away from the more mechanical, highly-verifiable kinds of admissions rubrics to the more holistic ones, the more difficult verification gets," says Barmak Nassirian, associate executive director for the American Association of Collegiate Registrars and Admissions Officers (AACRAO).
---
Follow Stories Like This
Get the Monitor stories you care about delivered to your inbox.